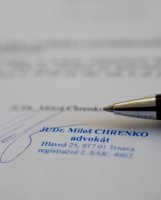 Law Office of JUDr. Milos Chrenko is a Law Office of dynamic growth providing legal services to Slovak and foreign subjects within the main fields of Slovak legal system and in the whole area of Slovak republic.
Law office of JUDr. Miloš Chrenko provides complex legal services in Slovak and English language.
We do specialize on area of Civil Law (especially Property Law, Real Estate Law) Labour Law and Family Law.
We provide legal services also in the fields of Commercial Law.
The objective and professional ambition of Law office of JUDr. Miloš Chrenko is to provide the Clients with comprehensive legal services at a professional level. For the purpose of complexity we cooperate with external experts in various fields (mediators, real estate agencies, tax advisors, notaries and executors) and can fulfill also individual demands of Clients, being thus able to represent the Client from out-of-court dispute resolution through litigation up to execution of judgments and other decisions.
We provide services of secured electronic signature, by which we save our Client´s time and especially money.
The basic principle of advocacy performance is thorough observance of secrecy duty, individual approach to Clients and absolute priority of Client´s interests. Enforcing the Client´s interests through all legal means is a primary objective of our legal service provision.
We do realize the importance of our Client and his satisfaction is our primary interest. We consider the cooperation with Clients not only a simple solving of an individual legal problem, but we also strive to become strong professional partner for the Client, accompanying the Client through the labyrinth of legal relations.